About Us



Capitol City Brewing Co. and APISource are dedicated in bringing you the highest quality products at the best possible prices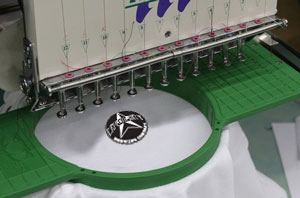 A Capitol City Brewing Co. shirt being embroidered
Partnering with APISource grants the Capitol City Brewing Co. Shop the ability to produce any products, both custom and pre made, for Capitol City Brewing Co. We strive to bring the most current and popular items as well as the best selection of all the necessities. Our product categories include all of the popular Cap City t-shirts and hats. Please check back often for new brew t-shirts and other merch!
At the Capitol City Brewing Co. Shop we strive to consistently reach new levels of excellence both in the item quality as well as our customer service.
Utilizing the in house production capabilities that APISource grants to the Capitol City Brewing Co. Shop give us access to full service silk screen and embroidery as well as our digital printing capabilities. APISource also processes the Brew Shop fulfillment program and handles the web design of www.apistores.com/capcity.
API
Attn: Capitol City Brewing Co. Shop
4471 Nicole Drive
Lanham, Maryland 20706
Phone: (800) 507-7007
Fax: 301.731.6101
Email: capcity@apisource.com
Online: www.apistores.com/capcity
About APISOURCE
Mission Statement
API's Mission is to provide full service promotional products merchandise through our trained professional sales and support staff. We aim to provide a wide array of programs and products that satisfy the needs of today and tomorrow's marketing professional.
We are a full service creative marketing and promotional products company.
We offer award, incentive, and fulfillment programs that meet and exceed our customer's expectations.
We are vertically integrated offering direct importing as well as in house manufacturing, silk-screening and embroidery.
We provide in house graphic arts, digitizing and web design to better enhance our commitment to customer satisfaction.
We are fully experienced in shipping nationally and internationally Via UPS, USPS, FEDEX and Common carrier.
We provide a full range of commercial printing services to enhance our customer offerings.
Our expertise will make you look good!

Our Integrated Divisions Full Service Promotional Products Company

We provide customization on over 800,000 products including many name brands. We provide featured products every quarter that are seasonally oriented with special pricing. We also provide a full online search of thousands of promotional products from all over the world.

Full Service in house Silk Screening

API provides state of the art screen printing on tees, bags, towels, totes, sweats and much more. We are experts at small or large jobs from one color to sixteen colors and even 4 color process. We make our own film, mix our own inks and make our own screens. We are a true manufacturer of product

Full Service Embroidery

API provides full service in house embroidery on bags, tees, polos, towels, dress shirts, golf bags and much more. We design our own embroidery tapes in house as well as manufacturer on state of the art Tajima equipment. We also are distributors and embroiderers for brand name products such as Gear, Cutter & Buck, Ashworth, and Champion.

Full Service in house Fulfillment

API provides full service pull/pack/ship services to our clients. We have full time in house customer service for order processing and phone orders.

Full Service Graphic and Web Design

API provides full service graphic art services and e-commerce website development including full shopping cart and Flash technology. We provide solutions for singular e-commerce products to full e-commerce company stores.

To all of you, from all of us at the Capitol City Brewing Co. Shop - We look forward to providing our services to you in any way that we can.